Chiang Mai is a cheap retirement dream but are you getting both sides of the story? In this article we will discuss some of the real pros and cons from someone that has been there many times and knows what retirees need.
The Pros and Cons of Living in Chiang Mai are:
Pros
Cheap Food
Cheap Accommodation
Easy Visa Requirements
Less Humid
Slower Pace Of Life
Cheap Flights
World Class Dental
Great Cheap Medical Care
Plenty To Do
Cons
Now that you know what some of the Pros and Cons are you can read more about why they are Pros and Cons below. 
What are the Pros of Retiring to Chiang Mai?
What cheap food is available in Chiang Mai?
An expensive meal of a rack of ribs will cost 500 baht or roughly $15 USD, a cheap meal at one of the Thai style food courts like at the airport shopping centre will cost around 60 baht or less than $2 USD. A 5 kg or 11 pound bag of vegetables from the wholesale fruit and veg market will cost about 120 baht or about $3 to $4 USD. The street food you can get for 10 baht per Chicken skewer or 30cents each.
Let's discuss where you can get each of these types of food around Chiang Mai. The two biggest night food markets are at either end of the old town at the Pratu Gate which is open from around 5pm to 11pm. Check out the fried donuts with condensed milk and the cheap fruit shakes as well as the cheese pancake balls. He makes them with tasty cheese so they taste great as long as he did not make them after a seafood batch.
The second biggest is at the opposite end of the old town at the Phuak Gate and is open from the same times. Be sure to grab some skewers and some Crispy Spicy Fried Chicken Salad while there. There is a fried lettuce salad at one end that is extremely popular with the locals you might also want to check out as well.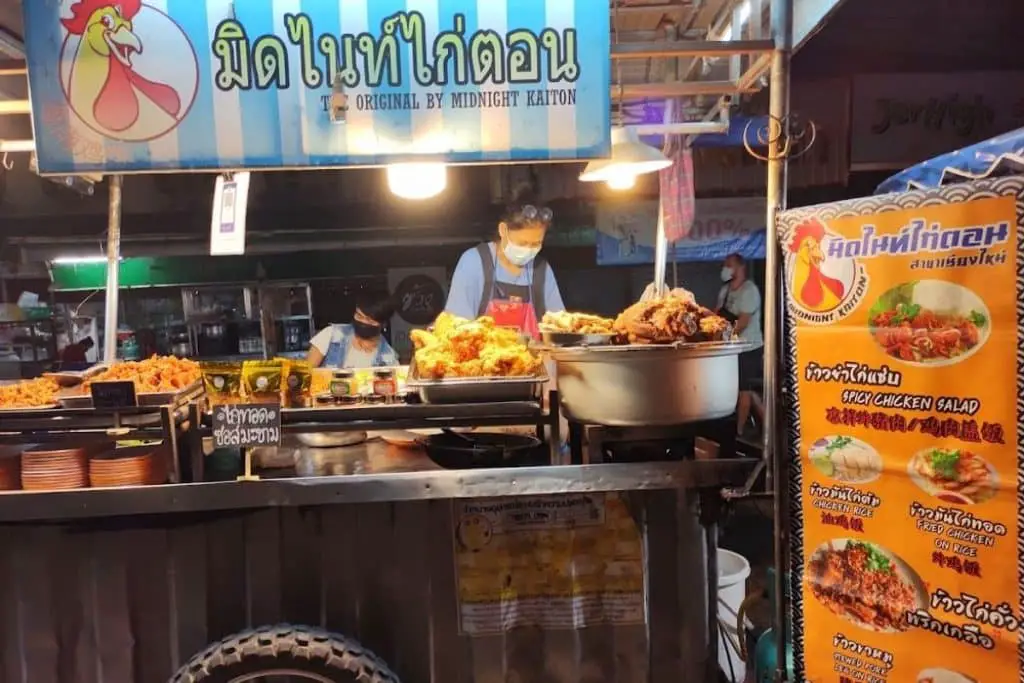 The other night markets are the Saturday and Sunday night markets that have the same types of food, just more of them. The saturday market starts from the opposite side of the road from the first night food market at the Pratu gate above. The Sunday market runs through the centre of the old town. Be sure to check out the cake stand at the crossroads of the market for some yummy treats. 
Your local Thailand supermarkets where you can get all of your groceries and alcohol you will need are TOPS and the Big C. My personal preference is the Big C as they are slightly cheaper and have better pastries. A bottle of White Spirit which is basically Vodka will cost 160 baht or less than $5 USD. A pack of pastries will cost you around $1 to $2 USD. Simply search for these on google.
Don't forget that 7-11 is your local shop for bread and milk and snacks and their prices are the same if not better than the supermarkets which is completely different to what is normal in other countries. Check out the toasted sandwiches that they will toast for you and the pork and bacon burger which they will also heat for you. Good stuff if you are on the run.
Cheap Accommodation
Accommodation in Chiang Mai can cost as little as 2500 Baht or 75 USD per month for a hotel like room with attached bathroom. Cheap hotels in Chiang Mai with daily room servicing are around $80 USD per week. Units with 2 or 3 bedrooms in the centre of town  cost $750 USD per month and $250 USD on the outskirts.
You can find accommodation options on Facebook Marketplace by putting in Chiang Mai as the Filter town and then pick Property Rentals and then choose the Category of the rental you would like. I have outlined these in the image below.
IMPORTANT: If you are renting directly from the homeowner know there may not be a contract that protects you so be sure not to pay too far ahead in cash. If you go through a real estate agent also don't pay too far in advance even though it is cheap just to protect yourself as well.
MORE INFO: For more information on rental properties inThailand check out the Retire In Chiang Mai, Thailand: The Ultimate Retiree Guide article on this site.
Easy Visa Requirements
Thailand has an easy Visa of type "O" or "OA" for retirees that are over 50yo and have $2k USD in monthly income or $24k in a Thailand bank account. The visa renews yearly and you just need to prove that you still meet the requirements above. 
The "O" visa is one you apply for inside the country and the "OA" is the one you apply for from your home country. The Thailand official embassy website for each country has specific conditions that may apply for your country and you can find the country by country rules by clicking on the link below.
LINK: Royal Thailand Embassy Country Websites
Less Humid
Chiang Mai, unlike the central and southern parts of Thailand, is way less humid, which is great news for the feeling of heat in the air. It also means it gets a little cooler in the winter by 5 to 8 degrees in temperature with the lowest night time temperature in December and January being 14°C or 57°F.  Mostly the day time temperatures are in the low 30's in deg C or high 80's in deg F.
This temperature difference takes the temperature to a much more livable temperature and it also means that it is great to walk around at night. You will see many foreigners and locals walking around the old town moat come water feature in the early mornings and early evenings.
Slower Pace Of Life
The first thing you will notice after being in Bangkok or the southern beaches of Thailand is the slower pace of life in Chiang Mai. It is a sleepy town that kind of gets going at around 11am with only the produce markets and restaurant preparations for lunch really happening.
Farmers bring their produce in early to the wholesale food markets and while one is working selling the produce you can see the other that drove asleep somewhere in the truck. In the wholesale food markets the produce is sold from the back of a truck and in 5 to 10 kg bags or about 11 to 22 pounds. A 5kg or 11 pound bag of vegetables will cost you between 100 to 200 baht or $3 to $6 USD per bag. Absolute madness how cheap you can eat if you wanted too.
Even though the town takes a little while to open after lunch, it is the time to go wandering into the early evening. Unlike other parts of Thailand the locals will actually stop at traffic lights and for pedestrian walks across the road but will scoot off as soon as there is no more foot traffic.
Cheap Flights
Chiang Mai International airport has cheap flights direct to other countries including all the asian neighbours which means you can always get a cheap flight to most of Thailand and to explore the rest of asia. Viet Jet has the cheapest flights if you just want to carry on but be careful they will charge you if you try to take two bags as carry on so better to pay online checked bags before you get to the airport.
A flight to Bangkok with VietJet last minute can cost around 20 USD for the hour flight so whenever you feel the need you can pop down for a weekend and there are heaps of cheap accomodation places there you can find online as well. From Bangkok you can also go to Pattaya if you are a single man for the nightlife on an hour and a half bus ride.
The alternative if you don't like those types of bars is a 2 hour 40 USD flight to Patong Beach that is much more retiree couple and family friendly. Once in Phuket there are heaps of resorts you can get to from the airport as well that always have weekend getaway specials.
World Class Dental
Medical tourism has created world class dental throughout Thailand and due to the amount of foreign expats in Chiang Mai the level of care is just as good. To get your teeth cleaned, x-rayed, fillings and a fluoride treatment can all cost under 100 USD. Both my mother and friends that have been travelling with me have had dental work done there as well and been very pleased.
Here is a list of the dental clinics in order of my preference:
Dental World – like 20 dentists there so always easy to get an appointment with mid range prices
Kitcha Dental Clinic – Only a few dentists but more personal care and cheapest prices
Dental 4U – Highest rated small clinic but the most expensive prices
LINK: Dental World Price List
To get an understanding of just how much cheaper it is with the same level of care as anywhere else in the world with all the same equipment. A friend while there had his 4 wisdom teeth out for less than 700 USD all inclusive and that included the follow up and medication that the dentist issued. Antibiotics, strong pain killers and follow up meds.
Great Cheap Medical Care
The Chiang Mai Medical centre is open 24hours a day and has an international doctors surgery with on staff translators for most languages and you can get an appointment for around $15 USD and they can prescribe whatever you need. If you have a global health care contract this will be covered there as well. Each of the hospitals also provides their own health care coverage plan for while you are in town but if you plan on travelling maybe a global health care contract is better for you.
You can check to the following websites for International health insurance pricing:
Plenty To Do
Chiang Mai has heaps to do from shopping at the shopping centres to a cheap meal out for lunch to the festivals like the flower show and many more that are spread throughout the year. There are also local towns to explore the orchid farms to visit and elephants as well as numerous temples to look at. Chiang Mai is known as the city of temples due to the amount of them all over the town.
Here is a list of some of the things you can do around Chiang Mai:
Wat Phra That Doi Suthep
Discover Doi Pui Village
Walk around Doi Inthanon
Wat Chedi Luang
Chiang Mai Gate Market
Sunday Walking Street Market
Highland People Discovery Museum
Elephant Nature Park
Bua Thong Sticky Waterfalls
Huay Tung Tao
Here is a little look at the Chiang Mai festival so you can see what it is like.
Here is also a walking tour of the Sunday night markets as well so you know what to expect.
Read the full article: Retire In Chiang Mai, Thailand: The Ultimate Retiree Guide and find out all you have to know about this place.
What are the Cons of Retiring to Chiang Mai?
What is the Burning Season in Chiang Mai?
The Burning Season is when all of the farms burn off the husks and left over waste from their harvested crops they then burn off the waste to sow back into the soil between January and March. This happens due to Chiang Mai being in the valley between two mountain ranges and will cause a constant haze but by April it will have dissipated.
Of all the great reasons to live in Chiang Mai there is one that if you have respiratory issues may mess with you a little and you may want to go down to one of Thailand's many beaches to relax away from it or use this time to visit family.
Mosquitos
You can't talk about Thailand without mentioning the amount of mosquitoes all over the country including in Bangkok. In the southern part of the country and depending on what time of year it is, especially during the rainy season you will be faced with these annoying little creatures. In the south they are worse and you will find one night descending. You will need repellent in Pattaya and Phuket and less so in Bangkok. In Chiang Mai luckily in the middle of town there are not a lot of them but always have a place with fly screens and have repellent anyway which you can buy from the TOPS supermarket or the Big C supermarket.
PRO TIP: If you really want to teach them who is boss get an electrified tennis racket and make a sport out of getting rid of them. Computer City near the old town has a good selection of them to pick from starting at 79 baht or $2 to $3 USD.