Chiang Mai is the hidden retirement gem in Thailand's crown where you can live for about 300 USD per month, the weather is cooler, the pace of life is a little slower and people are more friendly.  I have been there many times and everyone I spoke to agrees with me that it has everything you need to retire cheaply and happily.
14 Common Questions Answered About Retiring To Chiang Mai:
Where is Chiang Mai?
Is Chiang Mai a good place to retire?
How much does accommodation cost in Chiang Mail?
How much is food in Chiang Mai?
How much do I need to retire in Chiang Mai?
How do you get around Chiang Mai?
Is Chiang Mai walkable?
Is there Grab in Chiang Mai?
Where do expats live in Chiang Mai?
Is Chiang Mai good for expats?
Is it better to live in Chiang Mai or Bangkok?
Can I move to Thailand permanently?
Can you drive in old age in Thailand?
How much is food in Chiang Mai?
Now that you know what people normally ask, let's walk through them in order and I will share my first hand experience from being there many times.
Where is Chiang Mai?
Chiang Mai Thailand is located in the North West of Thailand in Asia and is largely an agricultural area. It is the capital city and rural hub for the state where everything goes through to then be sold onto other parts of Thailand. It has a lot of flat country with a few small mountains around like the one directly next to Chiang Mai that can be seen from most areas within the town itself.
Is Chiang Mai a good place to retire?
Yes, Chiang Mai is a great place to retire with cooler temperatures, a more country lifestyle feel, plenty of great food and shopping, cheap accommodation and living expenses as well as hourly flights to Bangkok. It has many festivals like the flower show. Thai New Year and the Festival of Lights.
Chiang Mai is often somewhere that you visit after you have gone to many of the other places in Thailand like Patong Beach, Pattaya and Bangkok. For retirees it really should be number one, especially those that like a slower pace of life and cooler weather and don't care so much about beach living and know that everything will be cheaper.
The maximum temperature ranges from 14°C to 35°C or 57°F to 95°F but on average being a bit milder than those extremes with April being the hottest month. The hottest months have a low humidity around 50% to 60% and the cooler months in the rainy season where it rains less than half the days of the month it can have around 80% humidity. Due to the cooler temperatures though the humidity is not as bad. This is different to Patong and Pattaya beaches as well as Bangkok that have high humidities during summer that can make them unbearable some days.
The population in Chiang Mai is around 1 million in the main city and outskirts which means it is big enough to have every amenity you will need as well as major hospitals and dental clinics. This also means major shopping centres and an international airport that also had many flights direct to other places in Thailand.
How much does accommodation cost in Chiang Mai?
Accommodation in Chiang Mai can cost as little as 2500 Baht or 75 USD per month for a hotel like room with attached bathroom. Cheap hotels in Chiang Mai with daily room servicing are around $80 USD per week. Units with 2 or 3 bedrooms in the centre of town  cost $750 USD per month and $250 USD on the outskirts.
As you can see there is a wide range of prices depending on what type of lifestyle you want to live in. Whether you are a retiree or a digital nomad these prices are very cheap for everyone to be able to afford. If you want to try staying for the long term you can get an educational visa which we will talk about in the visa section and stay for 12 months and learn Thai at the same time for a very cheap price. It will also mean you can bounce around a few accommodation choices and find what works for you.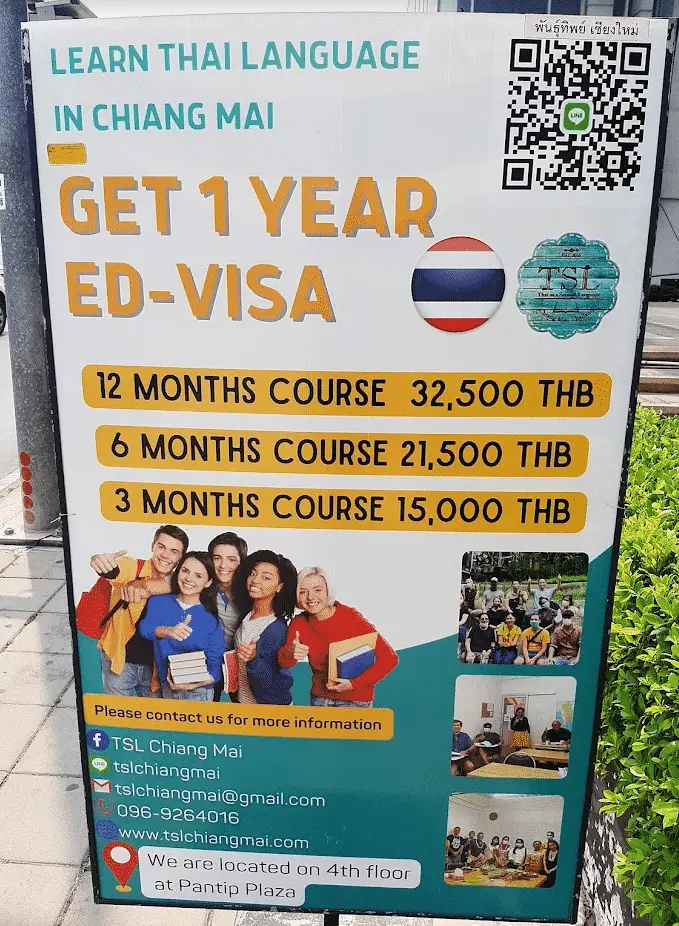 If you are planning on moving there permanently remember that you are not allowed to own land in Thailand so you are generally limited to condos or units if you want to buy. There are plenty of options for those pre-built for foreigners all around town.
How much do I need to retire in Chiang Mai?
To live and retire in Chiang Mai in a hotel-style living accommodation with your own bathroom you can live in the centre of town for as little as $305 USD. For a 1 bedroom you can live for as little as $380 USD per month and for a 2 to 3 bedroom $540 USD per month.
Two of the options are available in the table below: 
| | |
| --- | --- |
| Expense | Monthly Cost |
| Rent (Hotel Style Room) | $75 USD |
| Rent (2 bed unit) | $250 USD |
| Utilities (Electricity / Water) | $50 USD (4 Baht per KW and 7% tax) |
| Mobile | $10 USD |
| Groceries (Including Bottled Water) | $100 USD |
| Dining Out (2 people X 8 times) | $30 USD |
| Internet | $20 USD (20Mb down / 10Mb Up) |
| Petrol | $80 USD Car / 20 USD 125CC Bike |
| Total (Hotel Style Room) | $305 USD (Motor Bike) |
| Total (2 Bed Unit) | $540 USD (Car) |
How do you get around Chiang Mai?
The ongoing costs are important but you will also want to think about the one off costs like buying a 125CC or under motorbike which will cost around $1500 USD for a fairly good one brand new. The entry level moped can cost only around $860 USD which is great or a mobility scooter for $600 USD which is very cheap no matter what country your are in.
If you look on facebook marketplace and put in Chiang Mai as the filter and then pick vehicles and then finally the moped in the motorbike types as per the photo below. This will allow you to find all the second hand mopeds and motorbikes as well as cars if you would prefer that instead.
You will see some of the cheaper mopeds can be around 13k Baht or $390 USD so they can be very cheap to buy and run. If you don't want to buy or are just there to check the town out before you decide to retire there you can hire a moped on a monthly rate for around 2500 baht or $75 USD for a 110 to 125CC moped.
The town also has a bike hire system around the centre of town you can use to go for a very cheap ride at around 10 baht or 30 cents USD per trip. Anywheel runs the town bicycle hire and you can find them on either app store or on the website link below.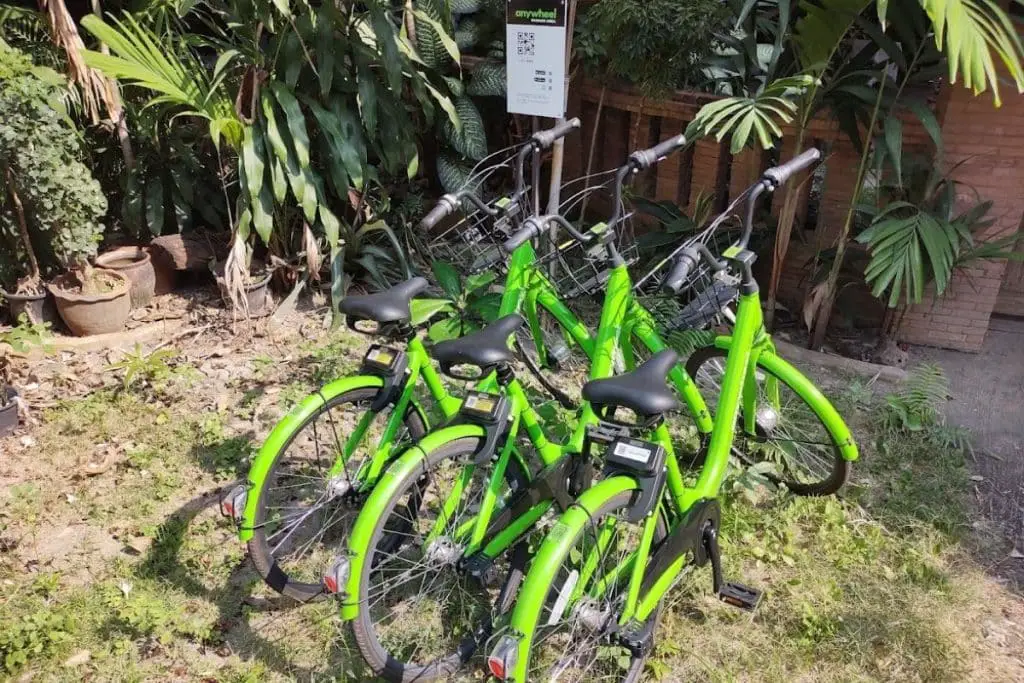 LINK: Anywheel Website
There is one scooter place in Chiang Mai where you can rent e-scooters but they are fairly expensive and you are much better off walking or riding a bicycle instead as it is 250 baht for 3 hours and there are plenty of other cheaper options.
PRO TIP: Here is the Shell website for fuel costs in Thailand so you can see what they will be when you are looking to create your own budget.
Is Chiang Mai walkable?
Chaing Mai is extremely walkable and if you walk at the standard 5km per hour that Google recommends you can walk across old town in about 20 mins but I have found from walking it many times myself it takes about 30mins with looking at things and waiting for lights.
While Chiang Mai is very walkable there are plenty of Red trucks that will take you anywhere in the town for 30 baht per person as well so keep some change on you. It is sometimes nice to walk to lunch and then get a truck back or the other way around. You don't feel so guilty when you indulge a little bit as well. We also all know that one of the simple secrets to a long life is aerobic exercise, or at least I keep telling my mum that. 
Is there Grab in Chiang Mai?
Yes there is and the minimum travel price is around 70 baht so if you have two or more people sometimes it is better to get a Grab over the little red trucks locally and you get air conditioning for the same price as well.
Grab will also deliver everything from groceries to packages and everything in between. With Shoppee being so big in Thailand you will order most of your online goods through there with fairly quick shipping times and low prices. Food and transport is usually what you use Grab for.
PRO TIP: In cheaper countries like Thailand if you try to pay with Credit Card for Grab transport no-one will accept your job. Pay by cash and you will get picked up quickly and be on your way.
Where do expats live in Chiang Mai?
The Nimmanhaemin neighbourhood is where a lot of expats live but you will find them all over Chiang Mai as the whole town is safe and more like a big country town. The new unit highrises and the Maya shopping centre are a draw card for most of them. But for me it is near the airport or old town.
For me though nothing beats living in and around old town or near Central Chiang Mai Airport shopping centre as the liveliest of the shopping centres even during Covid. You can get a cheap meal there at the food court and it is cheaper than the Maya shopping centre. Maya is trying to be an up market place and there are some great restaurants there but your daily life will be over near the airport. Not to mention it makes it easy to take advantage of the $20 to $30 USD flights all over Thailand.
Is Chiang Mai good for expats?
Yes, Chiang Mai is great for expats with a cheaper cost of living, great food and happy locals that are always wanting to help and less hawking that comes with most of Thailand. It is a working town with less humidity especially in April, the hottest month as well. It also hosts a yearly Flower festival.
TIP: check Retire to Chiang Mai Thailand: 11 Pros and Cons and find it out what many retirees find as pros and cons in this city.
Is it better to live in Chiang Mai or Bangkok?
Chiang Mai is definitely the choice for retirees due to the cheaper living, less pollution, small country town feel, and heaps of festivals to keep you entertained. It has an international airport with also cheap flights around the country and Asia. The large expat community is also a bonus.
You can still visit Bangkok for the day or a weekend any time you like with $20 to $30 USD flights making it very accessible and less than an hour flight time. So if you miss the hustle and bustle then go for a short time and then come back to your more relaxed living in Chiang Mai.
Can I move to Thailand permanently?
Yes you can on an "O" or "OA" type non lucrative long stay visa that you can get when you are over 50 years old and can prove that you have 65000 baht ($2k USD roughly) in monthly income or 800,000 baht ($24k USD) in a Thailand bank account. The initial visa will be for a year and can be renewed each year as long as you meet these requirements.
The "O" visa is one you apply for inside the country and the "OA" is the one you apply for from your home country. The Thailand official embassy website for each country has specific conditions that may apply for your country and you can find the country by country rules by clicking on the link below.
LINK: Royal Thailand Embassy Country Websites
Can you drive in old age in Thailand?
Yes, there is no age limit to driving in Thailand but from the age of 70yo you need to do a test every 3 years. If you have a licence from another country you can just do the local paperwork without a physical test but will need to do the written test to get a local licence. An International Licence will let you drive straight away but will need to be converted if you are staying permanently.
How much is food in Chiang Mai?
Food in Chiang Mai starts at around $2 USD per person for a meal in a restaurant and can go up to $20 USD per person per meal. The local dishes are around 50 to 70baht for a starting price and it all then depends on where you go as to the quality and whether you need an air conditioned eating environment.
Air Conditioned restaurants normally charge a 10 to 20 baht aircon tax on your meals or lower their quality. I have a few favourite places to go and each when I am in town I will start with the cheapest and best quality of the non air conditioned places.
Grazie Thai Restaurant is a great little place where you will always get great quality food at a cheap price and not only is the food good, try out a fruit shake as well with banana being my favourite. You can get a meal for 50 baht and 30 baht for a shake so for the meagre price of $2.25 USD you can have a full belly and support a local business as well.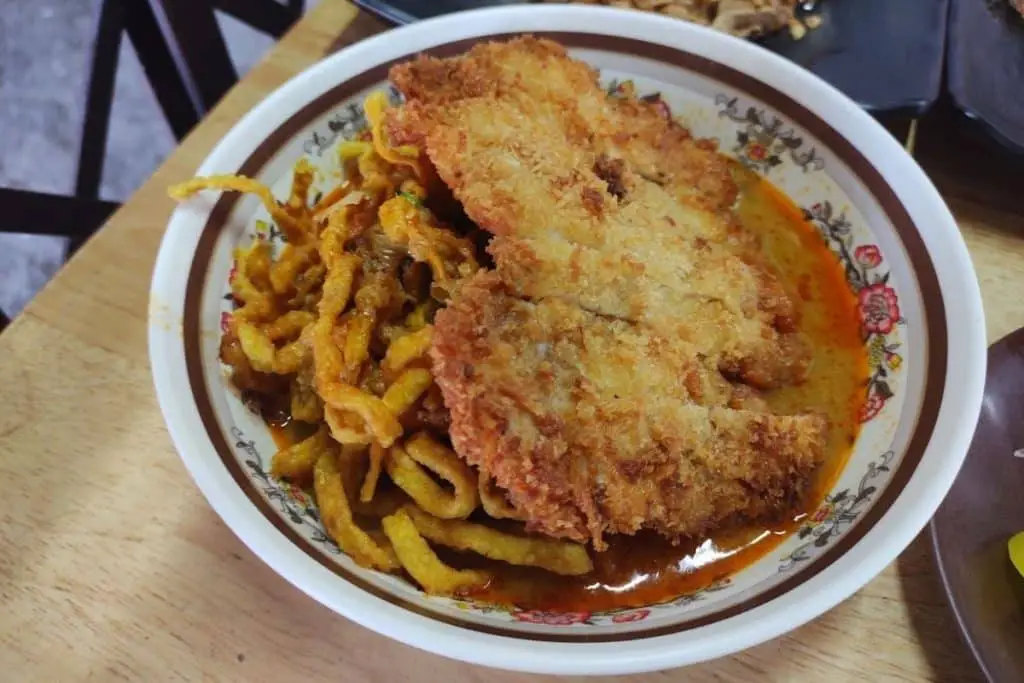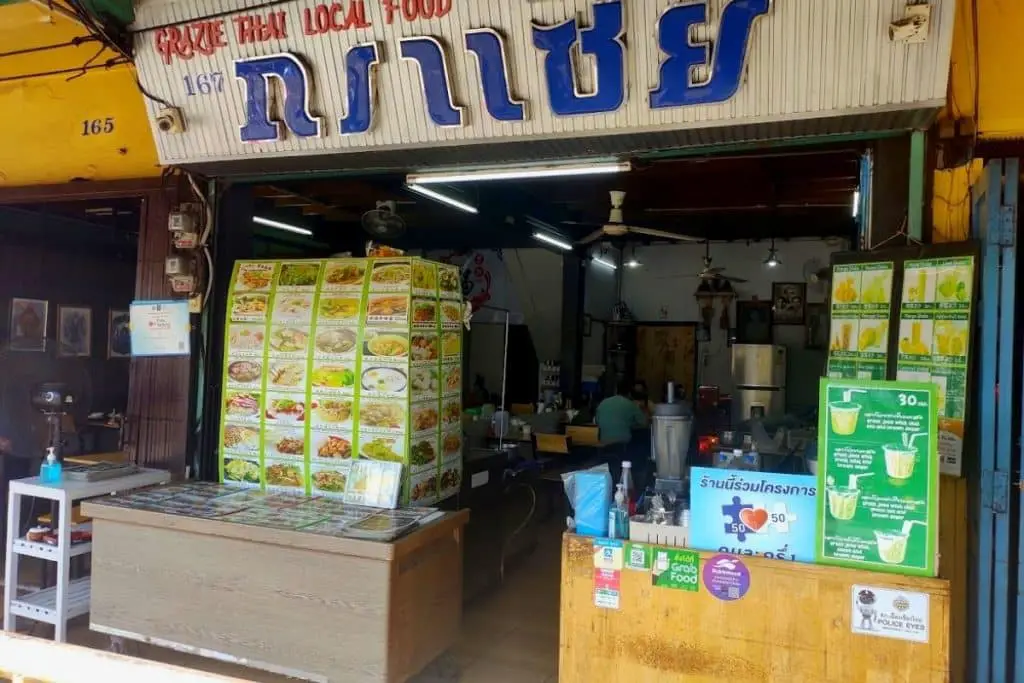 You will see granny above in the photo keeping a check on everything and they are welcoming and very friendly and always happy to help. We have tried many dishes there and the curry egg, crispy chicken or the 3 types of pork noodles and getting them to add soup are great. Explore the meals and you will not only save money but not have to worry about cooking or cleaning. A friend of mine likes fried noodle curry but I am not big on spicy dishes myself.
The best traditional Thai style food court in town is at the central airport shopping centre on the ground floor where you can work your way through heaps of different types of dishes. The shopping centre also has the Hachiban Ramen noodle franchise as well which is my favourite ramen when in Thailand on the top floor. A ramen noodle there will cost you around 100 baht compared to the 50 to 60 baht at the food court. The whole building is air-conditioned so it is always good during February to April months of the year.
There are heaps of bakeries around and there are a few you can check out as well starting with the one in the central airport shopping centre called Yamazaki where you can find Thai inspired French pastries after you finish at the food court for an afternoon snack.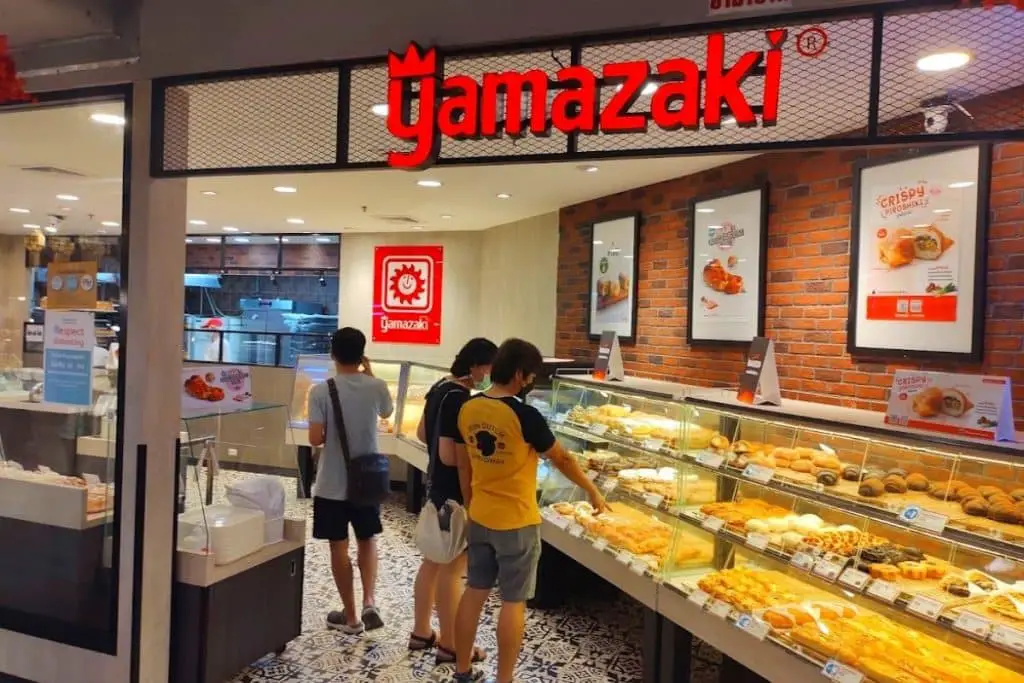 The next place is ร้านขนมปังไง! which literally translates into english as "What a bread shop!" which is on the road around old town and it has some great sweet buns with creamy fillings. There is a short video below of the shop where you can have a look at the flavours of buns they have there.
Finally if you have a hankering for some ribs as most meals in Thailand are either seafood, pork or chicken then there is no place better than The Dukes at the Maya shopping centre. While it may be more expensive sometimes you just have a craving you need to fill. It does have a secondary location in town as well that you can try out.
If you want a meal that is way cheaper than 50 baht a meal then keep in mind the wholesale vegetable and meat markets are open to the public as well so you can always make your own meals for way cheaper as well. Here is an area where you can look around at them and see just how cheap your meals could be.