Have you ever wanted to retire to somewhere where your pension, 401k or savings will last a lot longer?  Phnom Penh Cambodia is definitely worth a look and I will share what I learned while staying there about the food, accommodation, lifestyle, people and culture.
What must you know about retiring to Phnom Penh Cambodia:
What is the currency in Cambodia?
What are accommodation prices?
What are food prices?
What retirement visas can you get for Cambodia?
What are the main attractions to Phnom Penh?
What are Cambodian people like?
What is the culture like?
What is the cost of living there?
What are the local forms of public transport?
Now you know the common questions most people ask. I can answer each of them for you from real world experience in Phnom Penh.
Is Phnom Penh a good place to retire?
Temperature: 24 to 32 °C / 74 to 89 °F
Population: 2.3 million
The largest percentage of expat retirees choose to stay in Cambodia's capital Phnom Penh. This city has everything a retiree needs to live with it's combination of the old and the new. In fact the city is seeing an increase in new property builds and shopping centres. Phnom Penh is the place to go for retirees who want lots to do in their retirement and stay in modern accomodation and enjoy a vibrant cafe culture.
Phnom Penh is also home to a diverse range of international restaurants. Don't be fooled by the laid-back vibes; the city offers a good evening resturant and live music scene.
What is the currency in Cambodia?
The currency is Cambodian Riel KHR but USD is also valid currency. The ATM's will give you USD and when you use that the change will be in Riel and USD mix depending on the size of the USD note that you used. Property is bought and sold in USD and the use of the USD is slowly driving prices up in Cambodia. This means if you live there full time you will need a wallet or purse that can handle two currencies.
PROTIP: The Bank ATM machines only give you USD and sometimes only in $100 USD notes and most small vendors won't accept them for small purchases. They will also give you a bad exchange rate when they give you your change in local currency. So break your USD to local Cambodian Riel at a mini-mart or better at the supermarkets and they will give you a better exchange rate closer to the actual rate. All stores will give you the USD or Riel price so do a quick conversion in your head.
What are accommodation prices in Phnom Penh?
The rental price for a 1 bed 45m2 unit with aircon and car park in Phnom Penh starts at $200 USD per month. This is an Asian-style property that only has a twin burner for cooking as that is all they generally use. Food is so cheap to buy out as you will see below. A more western style 2 bed property with a full stovetop and fridge as well as normally a pool starts at around $450 USD per month.
You can buy a 1 bedroom property asian style starting at $30k USD and a 2 bedroom for around $40k in Phnom Penh. If you want a western-style property you can get one for the same price at the outskirts of the city with many purpose built property complexes or in the city starting around $45k for a 1 bedroom. The properties are bought and sold in USD.
LINK: Cambodian Real Estate Website
What are food prices in Phnom Penh?
Street food can cost you 10 to 100 KHR and a low priced restaurant you can be charged $5 USD and a mid to high class restaurant you will be charged $10 to $20 USD. Street food is anything that you can pick up from a street vendor and is typically soups, salads, fruit and fried food. Low cost restaurants like Udon noodle and the western favoured restaurants on the riverfront linked to below are the next price up for meals. 
Then finally the high end restaurants that can cost for a couple around $30 to $50 USD. Here are some of my favourite places to get food and snacks in Phnom Penh so you can check them out. 
The best bakery with multiple shops is Bayon Bakery and our favourite one is located in the map below but go to the local one to you and while they all have a standard line they also all make one off specials.
The best japanese we found for good value for money was in the Aeon mall on the top floor called Ringer Hut and they had a great noodle egg curry soup with 5 levels of heat for the game. You can expect to pay about $13 USD for a meal for two there a the writing of this article but check the link above for current pricing.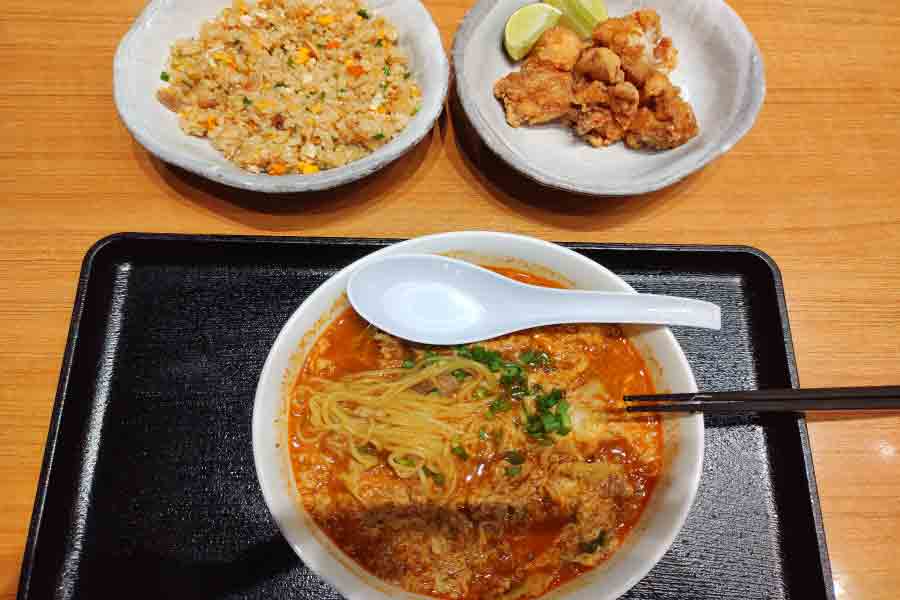 You will find on the top floor of Aeon mall a lot of other places that you can try and some tips on other interesting foods are Pepper Lunch for a good sizzling dish and get them to tone down the pepper if you don't like that much spice. These meals can be a little more expensive but good when you want to mix things up. 
Finally, a place you won't think of having a meal but check out the spaghetti bolognaise at Black Cannon as they do a great job of it there. Once we found it we went back just for that meal.
Somewhere you can have a great breakfast meal at a cheap price is the Muragame Udon chain that has one right on the riverfront. As well as their normal great menu at cheap prices you can also choose their under 5 USD teriyaki chicken, egg and rice dishes which are great for breakfast and they open early too at 7am. The staff are great and you just jump in the queue and pick your dish then you sides and a drink and you will be all set. There is a great little condiment mini bar as well there.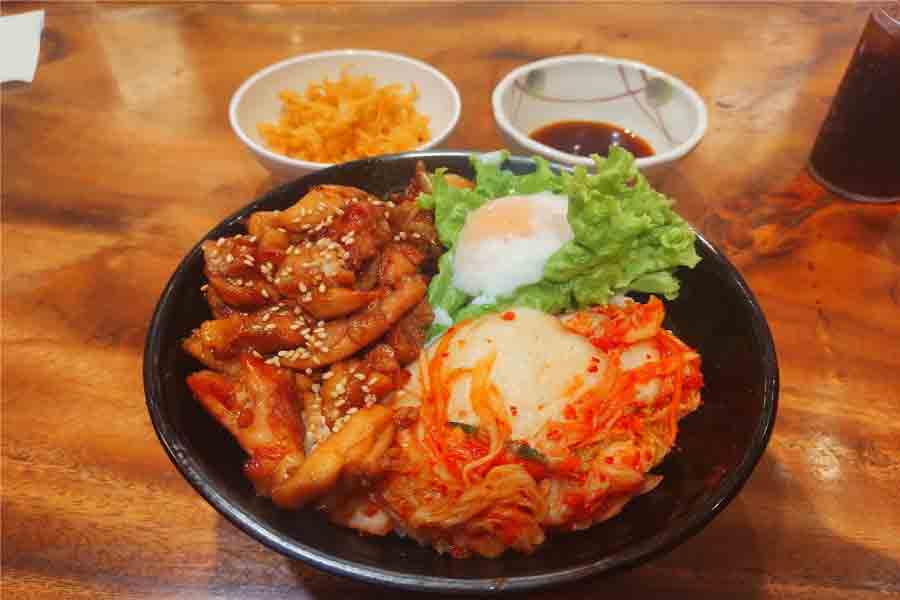 The other place that is regularly frequented by expats is Olala which is on the corner of one of the massage streets and the river road. It is out of that action but provides 75 cent beers and good quality food with plenty of sights to see on the front road and traveling up and down the side road. With a meal and many drinks you can walk away for less than $15 USD for a couple.
The second cheap restaurant frequented by expats is the New Corner Restaurant. Don't ask me what happened to the old one. This place is great if you want a Cambodian Beef steak meal for $7 USD and you can also get Australian Beef if you don't mind paying a little more.
There is also the night market that is popular with both tourists and expats alike but the quality of the food isn't as good as some of the sit down restaurants and while great to have a look at you will pay the tourist tax on these meals.
Supermarket wise there are many small markets spread around Phnom Penh but with a tuk-tuk only a few USD to get anywhere in the city you can go to one of the majors instead. There is a large supermarket at the Aeon malls that most expats choose to use but there are also chain supermarkets around as well as the local 7-11 type shops with competitive prices as well. 
Lucky supermarket is our preferred for lower prices than the shopping mall prices and with everything you could want. Local Cambodian fruit and vegetables and meat will be much cheaper than the imports and the price will let you know what is local. The Smile Mini Marts also offer the best prices in the 7-11 type stores around town as well.
What retirement visas can you get to stay in Cambodia?
Cambodia has an electronic E-visa for up to 30 days inside the country with a cost of $42 dollars for the visa and the admin fee.  It takes 3 days to process and has to be used within 90 days of getting the visa. This is the visa you will use to go and visit and see if the country is right for you to retire into.
You can get the electronic visa from the official portal here:
LINK: https://www.evisa.gov.kh/
There is a retirement visa for Cambodia which is the ER visa that you can get if you are over 55yo and retired and can prove you have the money to live there.  This generally means a bank statement showing a monthly pension or lump sum in your account.  This visa is only for 1 year at a time but you can renew it inside Cambodia after getting the initial one from outside the country at an embassy.
This visa type has to be applied for at a Cambodian embassy and you can find a list of them on the link below.
LINK: Cambodian Embassy Locations
What are the main attractions in Phnom Penh?
Phnom Penh is mainly a working town and as the capital of Cambodia has everything you could want or need. There are heaps of things you can access from here as well as things to do in your retirement regularly as well. Below is a list of some of the things you may want to look into.
What is Phnom Penh Cambodia known for?
What are Cambodian people like?
The Cambodian people are welcoming and friendly and the language is much softer than their Thai neighbours. Everyone is always happy to help and we have not had a single bad experience day or night even in Phnom Penh. I have been out alone many times at all hours with no problems but if you do go during the early hours of the morning just take a tuk tuk instead of walking as they are so cheap and just general basic safety.
They are also very hard working people and you will see that in Phnom Penh and they operate their businesses a lot longer in trading hours than many other countries. The younger generation learn English in school so the overall level of spoken English is quite good and with so many expats around there is also always one that can help most of the time if you get stuck with communicating.
What is the culture like in Phnom Penh?
As we mentioned earlier in the town it is a working city and the people are warm and friendly and it feels very safe. The people love getting out on the riverfront promenade and meeting up with friends and family and on a Friday and Saturday night it is a hive of activity and well worth seeing. They embrace living life and are always keeping busy but will always have time to include you if you ask. 
There is a huge Chinatown and it is actually the richer part of town and this investment of money and Chinese culture can be felt in the town as well. China town while the meals are more expensive is well worth a look at. You will also see a huge Japanese influence in the food and culture as well for those that love those food flavours as well.
What is the cost of living for Phnom Penh?
The cost of living in Phnom Penh is the highest in the country but will still only cost you around $956 USD or less for a 1 bed unit or $1156 USD for a 2 bed unit. The highest cost is accommodation and health care. These costs depend on the level of living you want to live at and if you are happy with a more asian style accommodation near the edge of town prices for accommodation can be a lot lower. 
| | |
| --- | --- |
| Expense | Cost Per Month |
| Rent – 1 Bedroom | $200 USD |
| Rent – 2 Bedroom | $450 USD |
| Electricity | $100 USD (20c per kw) |
| Health Care | $386 per person |
| Groceries | $150 |
| Internet (Metfone) | $10 USD |
| Meal for 2 x 8 times | $80 USD ($40 USD for a single) |
| Petrol | $20 USD (motor bike) / $60 USD Car |
| Total Cost (1 Bed) | $956 USD |
| Total Cost (2 Bedroom) | $1156 USD |
NOTE: This is for one person and the biggest expense for a couple would be the second health care insurance cost as two can live almost as cheaply as 1 person. Also a tuk-tuk from one side of town to the other is about $7 USD with most trips only costing $2 USD.
TIP: Do not forget to check Cambodia: 5 Best Places To Retire In Cambodia and find what other places are popular for retirees.
What are the local forms of public transport?
Transport is extremely cheap in Phnom Penh with a tuk-tuk, hire car, bus and regional train being your most common forms of transport. As mentioned earlier a tuk-tuk from one side of the city to the other side will only cost about $7 USD and most trips being $2 USD. You can get a motor bike with less than 250 CC for $2k USD brand new and second hand a lot less which is the standard method of transport for most people.
With Cambodia making cars for the USA, Canada, UK and other countries as an export car prices locally are fairly cheap as well and you will see lots of new cars on the road. The delivery apps like Grab (biggest), Food Panda, Line (shopping) and others mean you don't actually need to leave the house as much as literally everything can be delivered. 
PRO TIP: When arriving in Cambodia, put the local version of the Grab app on your phone and only use the Cash option for paying as the local tuk-tuks won't pick up anyone that uses the credit card option.