Do you want easy access to Bangkok and everything it has to offer in your retirement but love access to a beach as well? Pattaya also has the benefit of being much cheaper to live with everything you will need for your retirement.
Here is a list of all the common questions about Pattaya:
Is Pattaya a good place to retire?
How much money do you need to retire in Pattaya?
How do you get to Pattaya from Bangkok?
Can an American retire in Thailand?
What are the house prices like in Pattaya?
What is the food like in Pattaya?
How many expats live in Pattaya?
Now you know some of the important questions, let's go through and answer them all.
Is Pattaya a good place to retire?
Yes, Pattaya is a great place to retire due to its access to Bangkok, the beaches, the night life on one side of town and the more relaxed community part of the other side of town. The two parts of town are Pattaya City which is considered the old town side where you will find a lot of the single men's bars and Jomtien beach which is more the couples side of town. So whether you are a single man or a couple there may be something here for you.
Here is a walking tour of the men's bars in the Pattaya City side of town.
Here is a windy walking tour of Jomtien beach on the more family orientated and couples side of town.
As well as the beach and heaps of food and entertainment choices there is also great shopping whether in the brand new Terminal 21 or the many other shopping centres around Pattaya including on the back street that you enter into town on when you take the bus from the airport.
How much money do you need to retire in Pattaya?
To live and retire in Pattaya Thailand in a hotel-style 1 bedroom unit you can expect to pay $520 USD per month and a 2 bed unit you can expect to pay $640 USD per month in total expenses. This obviously will change depending on how close you want to be to the beach, internal unit size, amenities at the complex and how you choose to live.
Here is an example of these expenses in the table below: 
| | |
| --- | --- |
| Expense | Monthly Cost |
| Rent (1bed) | $220 USD |
| Rent (2 bed) | $440 USD |
| Utilities (Electricity / Water) | $50 USD (4 Baht per KW and 7% tax) |
| Mobile | $10 USD |
| Groceries (Including Bottled Water) | $100 USD |
| Dining Out (2 people X 8 times) | $40 USD |
| Internet | $20 USD (20Mb down / 10Mb Up) |
| Petrol | $80 USD Car / 20 USD 125CC Bike |
| Total (1 Bed) | $520 USD |
| Total (2 Bed) | $640 USD |
How do you get to Pattaya from Bangkok?
There are two bus services that get you from Bangkok to Pattaya.  There is a bus that leaves from the airport and will cost 130 Thai Baht and takes 1 hour and 30 minutes. The second bus leaves from the Bangkok bus terminal and costs 119 baht and will get there in 2 hours. The airport bus drops you off at Jomtien Beach and the bus terminal bus will drop you at the start of Pattaya City.
You can get the airport to Pattaya bus from level 1 gate 8 at Suvarnabhumi Airport at the end near the Thai style food court at the booth in the picture below. Once you have purchased you just have to wait for the next bus to leave and you are on your way.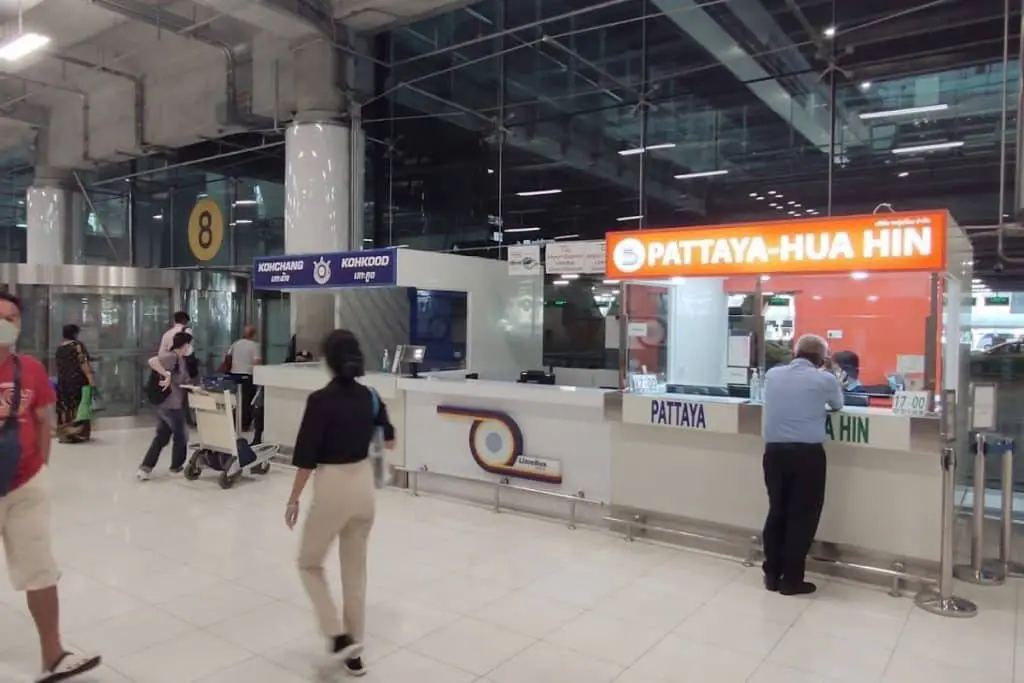 Depending on the bus driver they may charge you 20 baht for loading your bag if it is heavy or large and there is no rhyme or reason to when they will ask.  So keep some small change on you. With the same bag and weight some charged and some didn't.
Here is what to expect of the bus ride from Bangkok airport to Jomtien Beach.
The bus from Bangkok bus terminal leaves from the Eastern Bus Terminal Bangkok Ekkamai near the BTS Ekkamai train station. There are two companies that can take you and for both buses you do not need to buy the tickets online just on arrival is fine. One time we tried to book online and there was trouble with the third party ticket being accepted although it finally was after 30mins drama. 
If you are leaving from the Eastern Bus Terminal they leave at 06:00 / 07:00 / 08:00 / 09:00 / 10:00 / 11:00 / 12:00 / 13:00 / 14:00 / 15:00 / 16:00 / 17:00 / 18:00 / 19:30 / 21:00. These times are prone to change depending on demand and they put more buses on in peak times. Just aim to not be the last bus of the night if you can help it and you should be fine.
After you arrive in Pattaya you can expect to be charged around 50 – 100 bath if you take a red truck from inside the bus terminal to your hotel. Also the cheapest way back is taking the same red truck buses on the street and you can travel between 10 – 20 baht to your destination. 
PRO TIP: The funny thing is if you walk out onto the road and flag down a red truck you will only pay 10 to 20 baht instead and not the tourist tax directly from the bus terminal.
Can an American retire in Thailand?
Yes, Americans can retire to Thailand with the right Visa. Thailand has an easy Visa of type "O" or "OA" for retirees that are over 50yo and have $2k USD in monthly income or $24k in a Thailand bank account. The visa renews yearly and you just need to prove that you still meet the requirements above. 
The "O" visa is one you apply for inside the country and the "OA" is the one you apply for from your home country. The Thailand official embassy website for each country has specific conditions that may apply for your country and you can find the country by country rules by clicking on the link below.
LINK: Royal Thailand Embassy Country Websites
What are the house prices like in Pattaya?
To rent you can get a western style unit in a resort style complex for as little as $220 USD per month for a 1 bedroom unit or condo and to buy as low as $25k USD for a 1 bed unit or condo as well. Foreigners are not allowed to own land in Thailand but they can own units or condominiums.
Property prices can then climb to million dollar properties with the most expensive at the making of this article at $2.9 million USD and distance to the beach and centre of Pattaya City or Jomtien Town matters as well. So while there are plenty of cheap properties you will find one to suit any budget as well. There are rentals lower than $440 USD but these are generally the local Thai style units which don't always suit foreign buyers or renters.
Here is a local real estate to look as current property:
LINK: Town and Country Property
PRO TIP: During peak tourist seasons you can always rent out your property for some extra cash or to pay for your trip home to see family and friends. Global flight prices to Bangkok are cheap and there are regular specials. 
What is the food like in Pattaya?
Pattaya has a huge variety of food options from the beachfront restaurants to the restaurants and food courts in the shopping malls like Terminal 21 and the many night markets like the Jomtien beachfront one as well as other assorted international and Thai style restaurants around town.
One of my favourites is definitely the Food Court "Pier 21" at Terminal 21 shopping mall on the north end of town in the brand new shopping mall. There are currently three of these malls in Thailand, with Bangkok and Pattaya being the largest. Here you can find a wide variety of local food, drinks and desserts with a very good quality and at very low prices.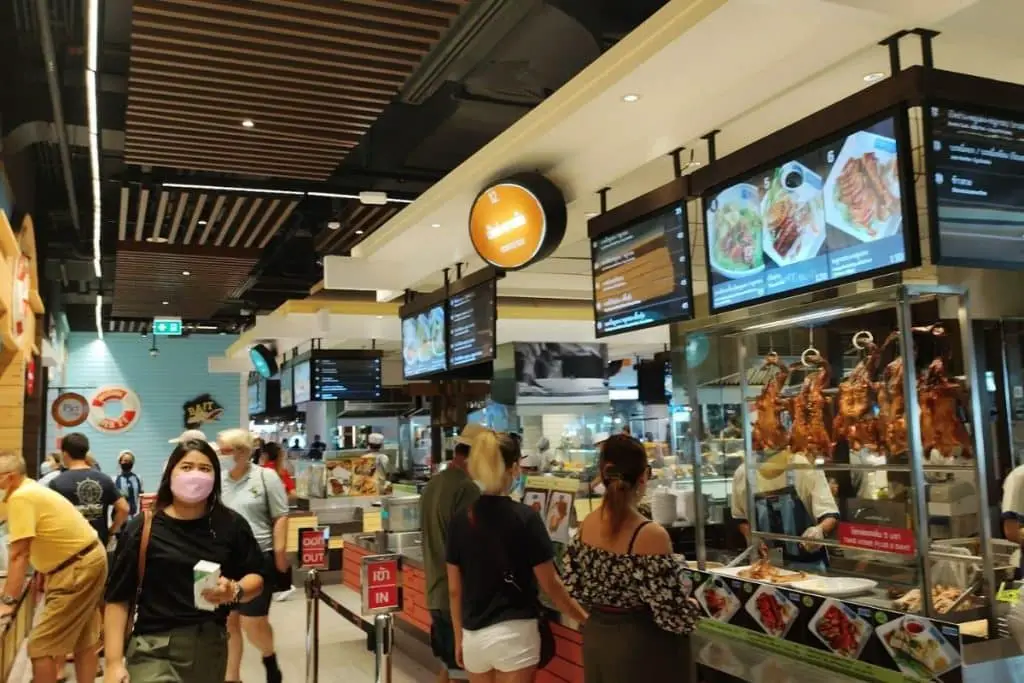 At Pier 21 and depending on how hungry you are, you can expect to spend about 70 to 90 Bath per person for a meal and a fruit shake for instance. This is a really good price considering that you will be eating in a clean, air-conditioned place for half the price you would pay in a restaurant on the street. And if you are new to Thailand, yes the air conditioning part matters especially in the hottest month of April.
Like most Food Courts in Thailand, you will need a prepaid card to pay for what you want to buy from the many food options available. Just remember to go back to the place where you got your prepaid card to withdraw the remaining money on your card after you are done. Some food courts don't expire the money at the end of the day but always err on the safe side or just ask.
Another option you must try in Pattaya is the JT Night Market located in Jomtien Beach. This small night market runs from 5pm until almost midnight and offers a very good variety of food and drinks (including beers) at very cheap prices.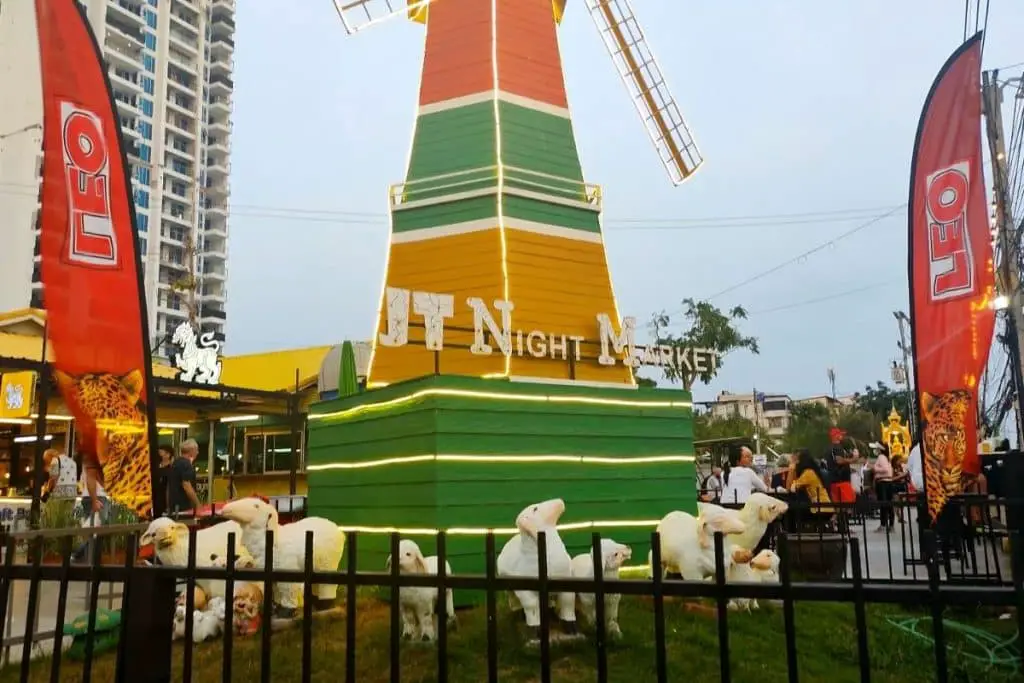 Jomtien Night Market is ideal to enjoy the unobstructed views of the sunset with a low budget with a great atmosphere including music and it is very popular for expats residing or visiting Pattaya. Even if you live on the north side of town a 20 baht bus ride will get you there for your meal and another 20 baht to get you home. It is only 10 baht for shorter trips.
Near this Night Market there are some restaurants worth visiting. One of them is Emily Restaurant. Their menu has quite acceptable prices compared to most restaurants in the area and the quality of the food is very good.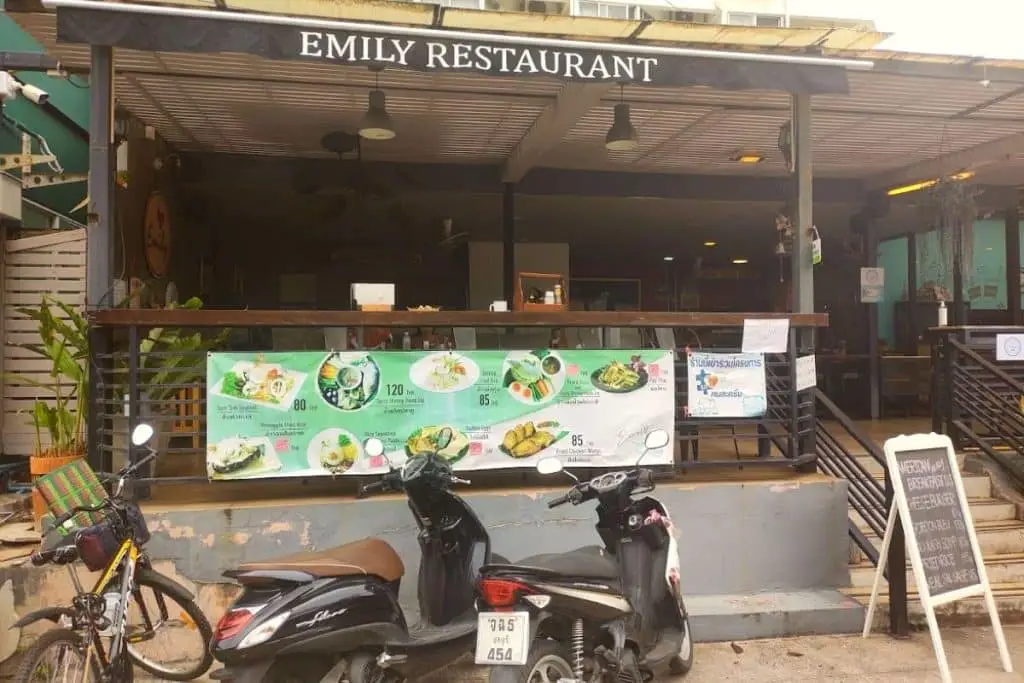 Many expats frequent this restaurant which offers an All-day Breakfast and a good selection of full meals and drinks. If you are a beer lover, this restaurant has the cheapest price on beers than other restaurants in the area. Normally you pay between 100 and 120 Bath for a large beer but at Emily's you can get it for 85 Bath.
Personally, I like the idea of buying your own beer at a 7-Eleven and sitting by the sea to watch the sunset and the staff at 7-11 will open the bottles for you as well. Some 7-Eleven's along Jomtien Beach have outdoor tables and chairs which you can use if you want to share a couple of beers with friends and get them at the best price. Just make sure you have a toilet close by and most of the restaurants will let you use their toilets for a small fee.
Now back to the food, another one of my favourite restaurants and one I recommend you go to is Master Turkish Kebab. I have had kebabs all over the world including Turkey and this little place just has the mix right for me. They do lamb and chicken with the right salads and three sauces that will get your mouth watering. Local Thai style dishes can get a bit much for me and I need to have places like this for mixing things up.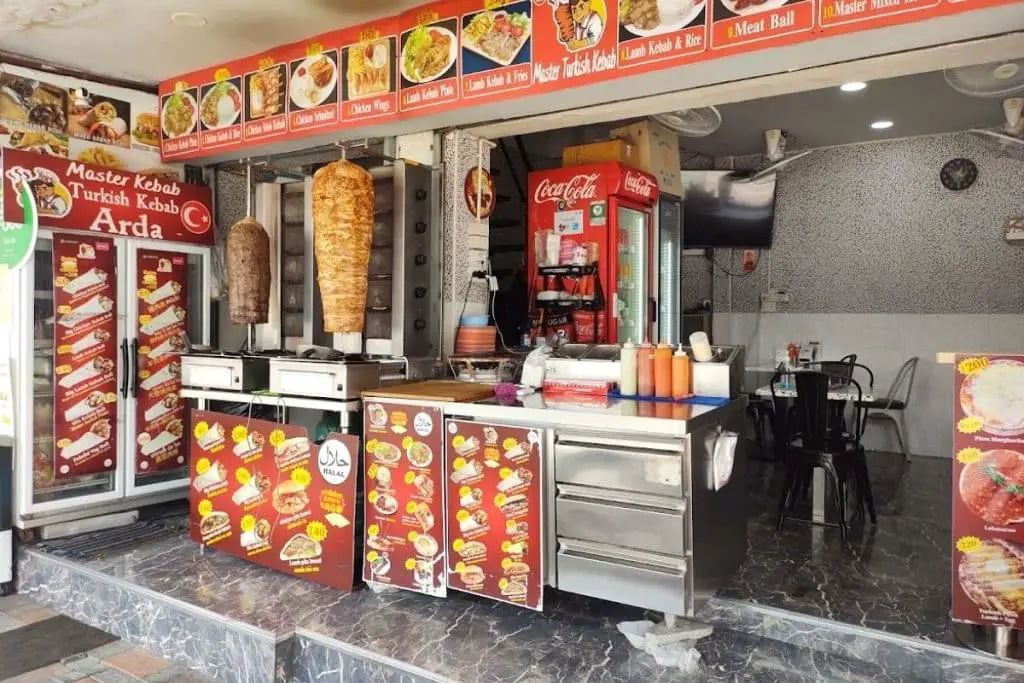 How many expats live in Pattaya?
15,000 US, European and Australian expats call Pattaya home so there is a very active community where you can make friends with as well as the many tourists to make friends to visit all over the world. This is of the about 150,000 expats from all countries in 2020. With tourism once again ramping up in 2022 this number will no doubt grow again.