Have you thought of living and retiring to Turkey but just don't know where to go? Have you thought about Mersin on the Mediterranean coast of Turkey as a cheap and safe place to retire. In this article we will let you know what is important for living in Mersin, Turkey.
Mersin is a great place to live with both the shops and services of a big city centre and the relaxing Mediterranean coast lifestyle. The food is cheap so you can eat out frequently and the variety is great with lots of fresh produce to pick from. The accommodation is cheap and you have world class healthcare with multiple hospitals to pick from with many specialist doctors. 
Here are some of the common questions people ask when they are thinking of living and retiring to Mersin Turkey:
Is Mersin Turkey a good place to live?
Is Mersin Turkey safe?
Is Mersin Turkey worth visiting?
Does Mersin have an airport?
How much does it cost to stay in an apartment in Mersin?
How many foreigners live in Mersin?
What food is Mersin Turkey known for?
What is the cost of living in Mersin?
Is Mersin cheaper than Antalya?
Is Mersin cheaper than Istanbul?
Is healthcare good in Mersin?
How can you get around Mersin?
Now that you know what all the common questions are for people thinking of moving to Mersin, let's dig into them and answer each question.
Is Mersin Turkey a good place to live?
Yes it is. Mersin Turkey is a great place to live with all the amenities of the commercial centre of town and the laid back lifestyle you get on the coastline of the mediterranean. The food is cheap and of great quality. Accommodation is cheap and it has world class health care with English speaking doctors.
The lifestyle if you live along the coast will be that of most coastal towns without the annoying tourist mob that you can get in some mediterranean towns and cities. The people are helpful and more down to earth and love talking to foreigners as it is still somewhat of a novelty for them.
Is Mersin Turkey safe?
Yes Mersin Turkey is very safe and you will find the safety level similar to that of other eastern european countries. There is always a visible police presence and whether you are single or a couple during the day you will feel very comfortable. As with any bigger city depending on your age just follow the usual basic safety you would in any other country. 
Personally I think Turkey has been given a bad wrap having visited many times without any incidents by just obeying the same safety rule I have for every country. I have felt much safer in Turkey than some times in the USA for instance.
The people are welcoming and kind and always happy to help you and most of the younger generation speak multiple languages including English especially in tourist areas so it is easy to get what you need done.
Is Mersin Turkey worth visiting?
Yes, it is worth visiting. For most people after they drive from Istanbul to Ankara they then drive down to Mersin to start their journey across the Turkish Mediterranean. The city is bustling with activity as a major port town with a thriving commercial centre and a more relaxed ocean front with great restaurants and hotels.
This formerly only working town has slowly been transforming itself into a more european style town and it is a great time to get some cheap property while it is on the rise near the ocean. Living or retiring there you will live down on the oceanfront and come to the commercial centre when you need to go shopping.
Does Mersin have an airport?
Yes, it is 65km from the city in the town of Adana which you can get to by bus or train to fly in and out as well as drive. It is about an hour to drive to the airport and will take you about 90 mins to fly to Istanbul from there for under 100 euros. 
Istanbul is then your regional global hub to fly anywhere else in the world with two major airports you can leave from depending on how far you are flying. From there you can also fly all over Turkey to explore what might be the new place for you to live or retire.
How much does it cost to stay in an apartment in Mersin?
Entry prices for a modern 2 bed and 1 bath unit with air conditioning and modern appliances start around $265 USD per month. Prices then fluctuate depending on location and quality of apartment.3 bed and 1 bath units start at $450 USD per month.
You can check local prices on the real estate website below:
LINK: Reality World
How many foreigners live in Mersin?
There are only a few hundred English expats living in Mersin but there are other expats from many other countries as well. You can find them on the Mersin Expats facebook group if you want to ask questions about living there before moving there. There are many other English tourists that pass through and live in nearby towns.
People from the UK are by far the most common to find across Turkey with many expats as well as tourists with cheap holiday packages. They have gotten in early and love a cheap trip to Turkey's mediterranean coast. These cities along the coast have so far escaped from notice from people from the USA but no doubt they will find it soon.
What food is Mersin Turkey known for?
Mersin is known for all the normal traditional meals you will find across Turkey but with a Mediterranean spin on some dishes. You will find fresh salads and seafood along the coast that you don't find as much of in inland cities. In the morning you can have a traditional Turkish breakfast by the sea and then for dinner a nice piece of fish or a serve of prawns.
Here are some restaurants that you can look at on Google Maps to look at the photos of their food:
What is the cost of living in Mersin?
The cost of living in Mersin is $555 which is a lot less than other places in Turkey as it is not overrun with tourists and a majority are Turkish people on holiday. This is important as prices are not inflated like some of the other mediterranean cities in Turkey.
Two cost of living options are available in the table below: 
| | |
| --- | --- |
| Expense | Monthly Cost |
| Rent (2 bed) | $165 USD |
| Rent (3 bed) | $350 USD |
| Utilities (Electricity / Water / Gas) | $85 USD |
| Mobile | $5 USD – Turkcell |
| Groceries (Including Bottled Water) | $100 USD |
| Dining Out (2 people X 8 times) | $40 USD |
| Internet | $15 USD (1000Mb down / 20Mb Up) – Turkcell |
| Petrol | $50 USD Car (40 L or 10 gal)  |
| Total (2 Bed) | $460 USD |
| Total (3 Bed) | $645 USD |
NOTE: These prices are for modern units in a western style but you can get both cheaper and more expensive properties depending on location and services as well as whether you want western or local style living.
Is Mersin cheaper than Istanbul?
Yes, living in Mersin is way cheaper than living in Istanbul.  The cost of living in Istanbul is $543 USD for a 1 bed unit at the edge of town where for $460 you can live in the centre of town in Mersin. This is due to lower accommodation and travel costs of being in a smaller town.
When you finish reading this article discover which are the other cheap cities in turkey in our main article: The 11 Best Places To Retire In Turkey
Is healthcare good in Mersin?
The level of care in Mersin is just as good as across the rest of Turkey with some great private hospitals that offer care specifically for expats and staff that speak multiple languages including english. The IMC hospital is an example of the hospital care with all the latest equipment you expect in the UK, USA or Europe.
When you first go to Turkey you will have to have health insurance so you have the choice of getting a local plan that will be way cheaper or a global health insurance that will cost you from Cigna $443 USD per month for someone that is 65yo at the writing of this article.
You can check to the following websites for International health insurance pricing for Turkey:
Some of the local providers of health insurance are:
The good news is that you can also go on the global health in turkey for about $85 USD per month after staying in the country for a year. This is their public health system so while it will be good to join you may also want to keep your extras or hospital only cover on your private insurance to make sure you are a priority in the queue.
How can you get around Mersin?
You can use the bus, eScooter, bike, car, train and taxi to get around Mersin Turkey. The most popular form of public transport is the bus for the town itself. Long distance the cheapest form of transport is the train from the local train station and you also have ferries to northern cyprus.
There are a few forms of eScooter around town, two of them are BinBin and Marti which are very cheap. The eScooters are 2 TL to unlock and then 1.29 or 1.49 TL per minute to use on average at the writing of this article. The main stop for the bus is in the commercial centre on the ocean front near the port and just near the shopping street that runs parallel to the ocean one block back as well as a second shopping street that goes inland from there as well.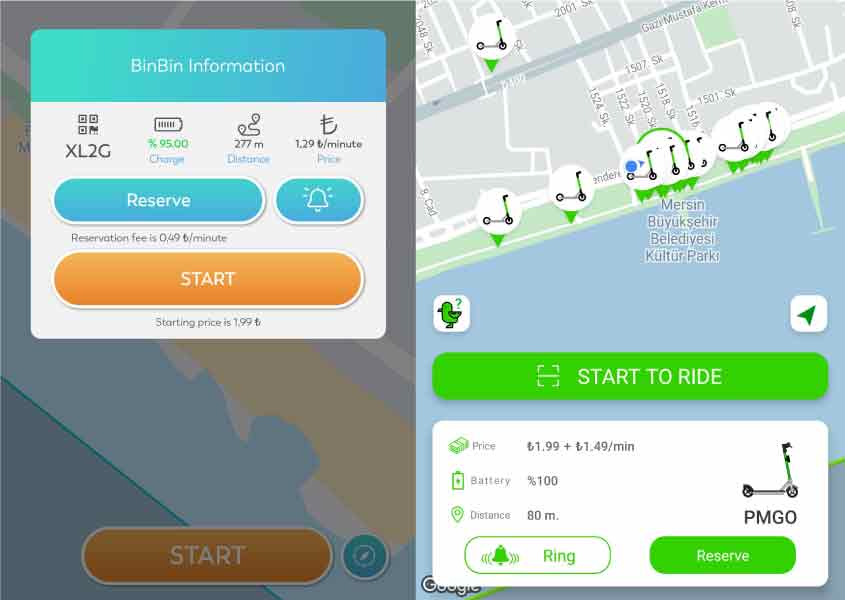 To purchase train tickets you can do this from the train station or the national rail website here:
LINK: TCDD National Rail Network
NOTE: You may not be able to access this website fully depending on where in the world you are but you will be able to access it fully when you are in Turkey. If you are deciding to use the train to travel to Turkey then you can get your first ticket at your local train station or on arrival online.