Do you wish to retire to one of the cheapest coastal European cities where your dollar will go further and there are around 300 days of sunshine with great food and even better Portugese tarts? Then you should seriously consider Lisbon as a retirement destination.
Yes, Lisbon is a great place to retire being one of the cheapest and safest places in Europe with access to great food and many beaches up and down the coast as well as beautiful scenic cliffs and things to do and see. With a welcoming population and over 300 days of sunshine what is not to love. While it is smaller than some other European cities it just makes it a much more walkable city when you go downhill. Uphill there are trams, a fanicular, buses and a metro to get you back up.
Here's all you need to know about living and retiring to Lisbon Portugal:
Is Lisbon Portugal a good city to retire in?
How much does it cost to retire in Lisbon?
Is English spoken in Lisbon?
Is Lisbon friendly to foreigners?
Is living in Lisbon Portugal safe?
How expensive are groceries in Lisbon?
What kind of food does Lisbon have to offer?
Where are the best neighborhoods to retire in Lisbon?
Now that you know the common questions people ask about moving to Lisbon let me answer these questions for you
Is Lisbon Portugal a good city to retire in?
With several stunning hills around town and an abundance of green space, Lisbon is known as the city of the seven hills. Lisbon has the benefit of being less costly than places such as Rome, Munich or London. Numerous retirees have relocated to Lisbon because living costs are lower than in most other countries in Europe. With the hills comes a lot of up and down but there are buses, trams, metro and elevators to help you get around. While the old escalators are no longer in use you can still see one they have kept for posterity.
With roughly ten months of pleasant weather and no scorching summers, the weather is probably the best in Europe. This promotes a lot of dining outside even in the cooler months. With such a long coastline being around 30 minutes to an hour from Lisbon you will always have ready access to a many beaches and a beautiful coastline. With several festivals and art exhibitions there is plenty to do in the city.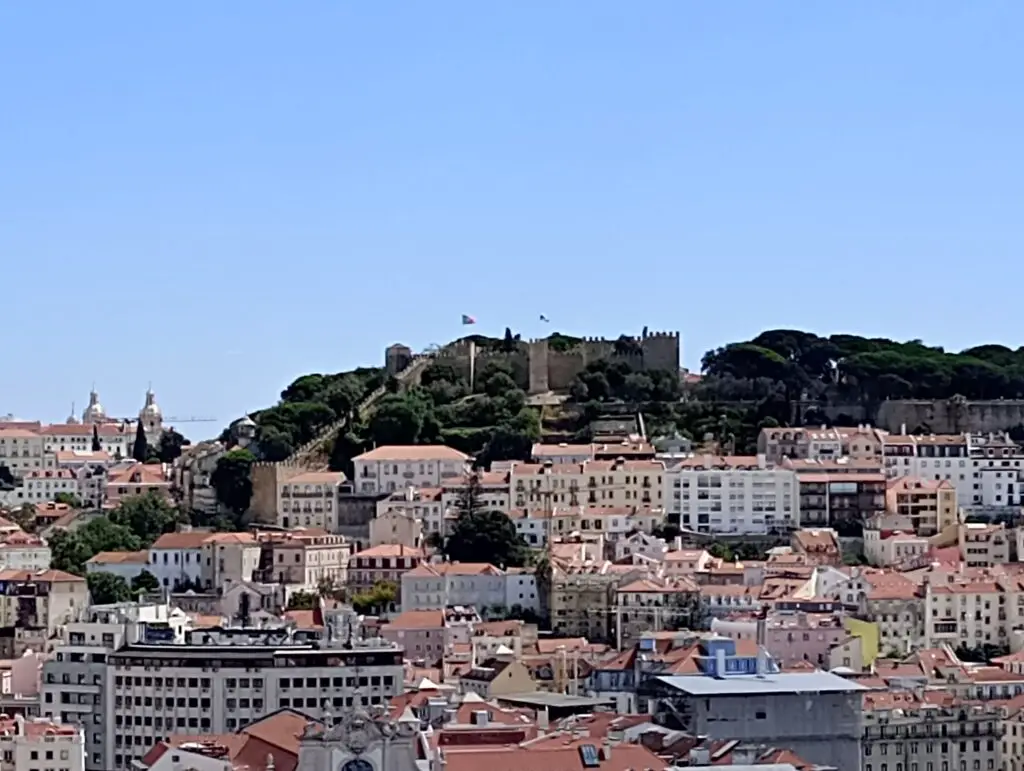 Lisbon is big enough at 500,000 people to still offer everything a big city has to offer yet small enough to maintain a strong neighborhood feeling. In Lisbon you can get to most destinations in less than thirty minutes. Being a capital city with a smaller population means you will also find it easy to run into and spend time with friends. It is a very walkable city even though there are many hills if you use the metro and trams to get back up them.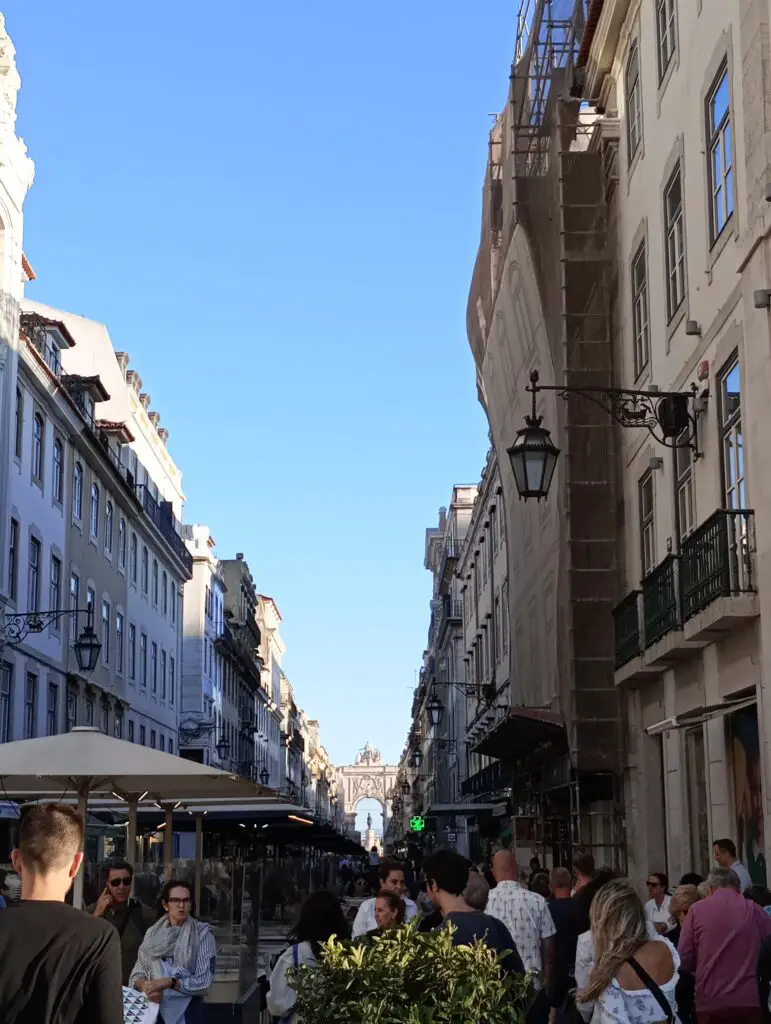 How much does it cost to retire in Lisbon?
Lisbon is a cheaper city compared to other big cities in Europe and the US such as London and Los Angeles. The cost of living in Lisbon is almost 50% cheaper than what you usually have to pay in London. 
It is also 41% cheaper compared to the city of Los Angeles, California. Lisbon also has a great value when renting or buying a house for a big city near the beach in Europe which is 47% cheaper than the average cost of living on the beach in the UK.
Here's a list of some common expenses:
| | |
| --- | --- |
| Common Expense | Cost |
| Utilities (Electricity & Gas) per month | $144 USD |
| Petrol (1 Gallon / 3.8 L) | $2 USD |
| Internet per month | $40 USD |
| Rent – 3 bed / 2 bath / 2 car per month | $1,522 USD |
| Rent – studio apartment per month | $778 USD |
| Meal for 2 in an inexpensive restaurant | $23 USD |
| Hourly rate for cleaning help | $9 USD |
NOTE: If you are trying to preserve your savings for the long run, it is better to get a place outside of the inner city ring or on the other side of the habour where there is cheaper property only a short ferry ride away.
Is English spoken in Lisbon Portugal?
The official language of Lisbon is Portuguese but English is pretty much spoken by almost everyone in the heart of the city. Therefore people exploring Lisbon or the neighboring shorelines don't have to worry about communicating. Signage is shown in both in Portuguese and English in crucial transportation hubs (such as airports & subways) and pamphlets in English are available for all tourism destinations.
If you are planning to live there long term then attempting to learn the language will get you a long way with the locals showing you are trying to integrate. If you want to start or brush up on your Portugese for free you can download the duolingo app and don't upgrade when prompted and you can use it free forever.  A couple of lessons a day will get you to know the basics in no time. It is also a great hobby to keep the brain active. You can also use the website version here as well.
LINK: Duolingo Website
Is Lisbon friendly to foreigners?
When tourists and foreigners arrive in Lisbon they will encounter a friendly and inviting environment. Even though not everyone in the city knows English they are nice and friendly to expats who live in their city except the Brazilians with a colonial rivalry going on even though the town is full of them. Neighbors in particular are friendly and frequently spend time drinking tea or coffee together.
To visitors and tourists the town will welcome you with open arms especially in the tourist areas. The local residents will be a little standoffish at first but as they see you around more often they will warm up to you quite quickly. Remember it is a massive tourist town so this is to be expected. 
When you relocate to Lisbon the residents will also have a number of questions for you, perhaps over a drink or a meal about where you come from and what it is like to live there. As a result it's relatively easy to make new friends in Lisbon. If you would like an older expat community then Cascais in Lisbon is worth checking out.
Is living in Lisbon Portugal safe?
Portugal is regularly rated among the world's safest countries. Portugal is ranked 4th on the Global Peace Index. Petty crime is perhaps the most widespread concern and they're mostly in tourist areas in big crowds. Simply by being aware of your surroundings and following basic travel safety rules you can avoid being a victim of this.
Lisbon is among Europe's safest cities with very few foreign residents encountering challenges or safety concerns throughout their stay. This town is modern, progressive and multicultural. Women and elderly foreign residents are quite safe both in the day and at night. 
IMPORTANT: There are fake drug dealers that opperate in the center of town and they are just selling fake drugs so the police can not do much about them. They are harmless and more ammusing then dangerous in any way.
How expensive are groceries in Lisbon?
Eating out in Lisbon doesn't have to become outrageously costly. A nice lunch is usually around $10 USD per person. A dinner for two with wine at a mid range restaurant starts at around $28 USD.
The cost of food is often low. Many Portuguese metropolitan areas particularly like the city of Lisbon feature huge vibrant local shops and also supermarket chains. Based on how you shop and where you prefer to shop then a couple's food budget might be as low as $200 USD per month. 
A bottle of fine wine and oretire oil made locally in Portugal will be cheaper than foriegn brands as in most other countries.  Local wine is reasonably priced starting at around $5 USD a bottle.
| | | |
| --- | --- | --- |
| Item | Per | Price |
| Milk | 1 Liter/ 1 Quart | $1 USD |
| Bread | 1 Loaf | $1.5 USD |
| Eggs | Dozen | $2.1 USD |
| Beef Mince | 1 Kg/ 2.2 Pounds | $7 USD |
| Chicken Breast | 1 Kg/ 2.2 Pounds | $5 USD |
| Beer | 12 | $11 USD |
| Wine | 1 Liter | $5 USD |
Here is a common local supermarket you can look at for current prices:
LINK: Auchan Supermarket
NOTE: These prices are only valid at the making of this article. Please check the website above to see the updated price of goods.
TIP: This website is in Portuguese. Use the auto-translation feature on your browser to get the site in English
What kind of food does Lisbon have to offer?
The people of Lisbon are quite passionate about their cuisine having a history in trading with and governing countries in India, Africa and South America as well as its many neighbours in Europe. Portuguese cuisine is nutritious and emphasizes fresh ingredients with locally sourced meat and fish frequently taking center stage.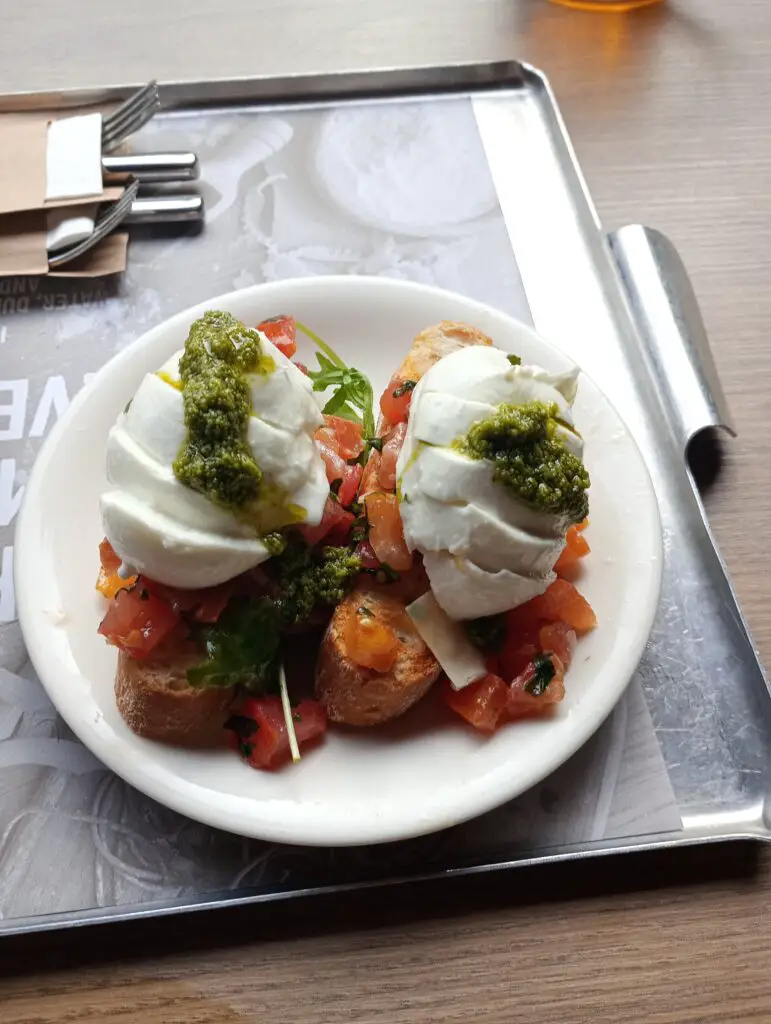 The most well known food for me would have to be the beautiful portugese tarts found around the city but most notably from the Timeout Market down by the river and well worth the stop. The tarts are still warm and some of the best I have had in the world and that is saying something as I love my custard deserts.
All festivals in Portugal are an occasion to eat, drink and be happy. In Lisbon you'll find a wide range of eateries serving delicious fish, roasted or stewed meat, pickled vegetables and traditional foods as well as international cuisines.
For a little known secret for the wine buffs check out this little park below of an evening where you can either drink wine from the wine bars, eat in the resturants or for those on a budget buy drinks from the mecardo on the corner and socialise with locals in the park. I have spent many nights there with friends and it is a great place to go before or after dinner and really feel like a local.
Here are a few recommended restaurants in Lisbon: 
And don't forget to check out the quite affordable Michelin start restarents in town as well.
LINK: Michelin star resturants in Lisbon.
Where are the best neighborhoods to retire in Lisbon?
Expats in Lisbon enjoy a lot of wonderful possibilities when it comes to choosing a region or district to retire in. Some expats prefer to be near downtown whereas some others also prefer to retire in the suburbs with public transport links.
Baixa is the city's most well-known area which is situated in the center of the city. Its location means it has become more desirable among real estate developers looking to buy and build flats. So if you like an inner city lifestyle in unit style accommodation this may be for you. 
This district offers a plethora of stores, cafés and stunning promenades within walking distance. Because of these amenities the region can be very busy throughout the day. If you want to completely engage yourself in the vibrant Lisbon life this is a fantastic place to do so..
Another notable district in Lisbon is Principe Real which translates to "Royal Prince". This district is frequently praised as Lisbon's most attractive area and it's easy to understand why. It is amongst the most desirable districts to retire in since it is a gateway to many of the city's finest eateries, clubs, cultural centers and shops. 
Because of the district's ethnic demographic you can eat food from all over the globe just a short walk from your door. It is also a short walk from the downtown area. This makes it a compelling place to live for expats. Property can be pricey in this area though so it will all depend on how much money you want to pay in rent or to buy a property.
Parque das Nações is a modern and bustling area a short distance from the city center which features modern architecture as well as various pubs, cafes and shopping complexes. It also has a lovely seafront and a number of open parks. While it offers adequate transportation links to the city center it may not be suited for seeking a quieter beach style living.
Here is a link to a local real estate where you can see some local prices: